Trouble is brewing in this sleepy western spiral of the galaxy. It's been five years since the infestation of the alien Xenomes started - five years since The General, leader of the Gunmen, fell in battle leaving you to take command. Now, a mysterious presence has tinkered with the DNA of these Xenomes, making them bigger and stronger than before, and the scourge is spreading once again. As leader of the Gunman, the only law in this area of the galaxy, you must set things right. Find the source of this hostile invasion, and clear these alien scum from the rim or the galaxy!
Gunman Chronicles combines a wild-west sensibility with high-tech styling to create a thrilling and visually unique first-person action experience - powered by the Half-Life engine! All of the amazing effects and frighteningly realistic AI that made Half-Life the undisputed king of first-person action have been brought to Gunman Chronicles, a tale of revenge and redemption on the rim of the galaxy.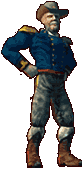 Gunman Chronicle's massive single-player campaign takes you through unique and dangerous worlds including dinosaur-infested jungle ruins and awesome techno-wastelands. But fear not! As a Gunman, you will not travel unarmed. An arsenal of high-tech customizable weaponry will be at your disposal to fight off the evil that you find. Controllable vehicles such as tanks and friendly computer-controlled characters will also aid you in your cause.
Aside from the challenge of the single-player game, you can battle online with a variety of multiplayer modes that take advantage of the Half-Life engine's ease-of-use and fast-paced online fury.
View the official Gunman Chronicles trailer.

Product Features
Adrenaline-pumping first-person action powered by the Half-Life engine!
Explore and battle your way through massive levels including dinosaur-infested jungle ruins and awesome techno-wastelands.
Customize your weapons to create a seemingly endless selection of high-tech weaponry.
Hunt down or be hunted by the fiercest genetically-modified mutants this side of the galactic core.
Compete against friends and enemies online in unique multiplayer modes.
System Requirements
Windows 95/98/NT/2000/ME
Minimum
Preferred
PenitumŪ 233, 32 MB RAM
400 MB HD Space
2x CD ROM Drive
SVGA, high-color (16-bit)
Win-compatible Soundcard
32-bit Internet service provider with 28.8+ modem or LAN
PentiumŪ 266+, 48 MB RAM
3D Accelerator card (OpenGL or Direct 3D)